Connecting Allied Health Professionals with CE for your professional needs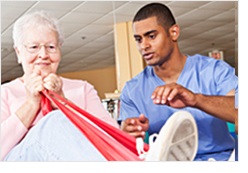 Improve practice, improve patient care
Lippincott CEConnection for Allied Health offers allied health professionals the CE they need to stay current on advances and effectively apply learning to practice.
Our high quality CE can improve the quality of care you deliver, your skills and your career. Only CEConnection for Allied Health offers the widest variety of hospital-based professions available, including CE for behavioral/psychiatric health professionals.
Ready to join? Sign up now!
Find an Allied Health CE especially for you by Clinical Category, Profession, Specialty or Topic
Practice-oriented learning to help you meet licensure & certification requirements
High quality, peer-reviewed CE tailored to the learning needs of allied health professionals, created by the experts at Lippincott
New courses and new specialties added frequently
Tools to plan activities, track your progress, set reminders and access your certificates
Quickly navigate state requirements, access certificates and plan your CE
Affordable, pay only for tests you take
Supports continuing professional development objectives and supports life-long learning
Browse Continuing Education Activities
CEConnection provides several browsing options. Click on any browse category to view a full listing of related CE activities.