{{ (moduleVm.actions && moduleVm.changeStatus) ? moduleVm.status : '' }} Pediatric Language Assessment and Intervention Using a Telepractice Service Delivery Model
Activity Steps
{{ evaluation.question.text }}
{{choice.text}}

{{evaluation.answerSet[0].text}}
Description
Note: ASHA CEUs cannot be reported to ASHA unless your ASHA member number is included in your profile.
This program includes 5 articles from the Topics in Language Disorders journal?s April-June 2022 issue. These articles include information for speech-language pathologists (SLPs) explaining the use of a telepractice service model for pediatric clients. This includes information about language assessments, diagnoses, and interventions. The importance of integrating telepractice SLP services in graduate curricula is explained. Legislation, national guidelines, federal and state laws, and ethical requirements for a SLP telepractice service model are also addressed.
Accreditation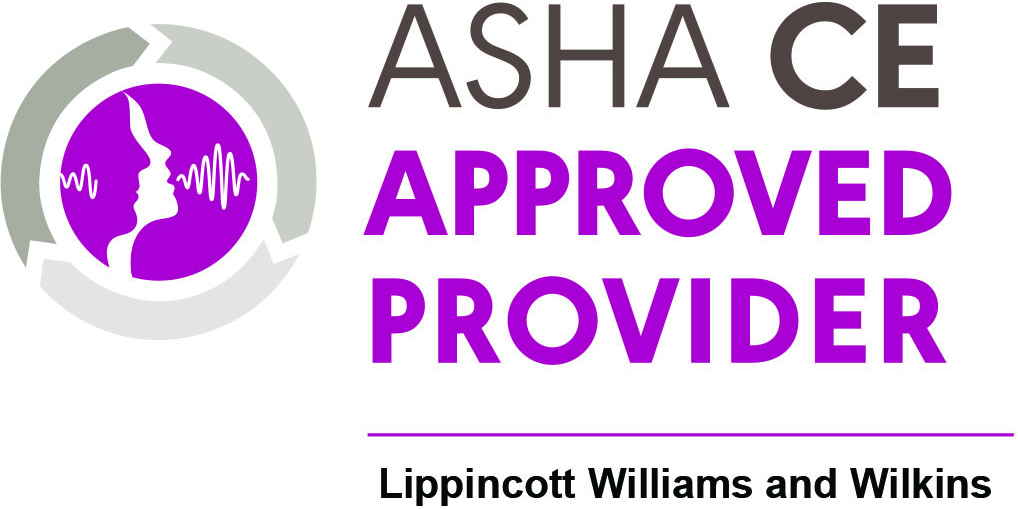 This course is offered for 0.55 ASHA CEUs
(Intermediate Level, Professional Area)
Learning Objectives
After completing this continuing education activity you will be able to:
Explain recommendations on the assessment, diagnosis and intervention processes of SLP telepractice services for pediatric clients at home and school-based settings.
Identify legislation, national guidelines, federal and state laws, and ethical requirements governing telepractice models of SLP services.
Describe the rationale for integrating telepractice services into SLP graduate curricula.
Learning Outcomes
Seventy-five percent of participants will demonstrate knowledge of legislation and guidelines, pediatric language assessments, and SLP interventions for telepractice SLP services by achieving a minimum score of 80% on the outcomes-based posttest.
Disclosures
Author disclosures can be found at http://links.lww.com/TLD/A83.
Article Title: "Preparing Speech-Language Pathology Graduate Students for Effective Telepractice: Recommended Knowledge and Skills"
Article Disclosure:
Portions of this manuscript were presented as an oral session at the 2021 Council of Academic Programs in Communication Sciences and Disorders Conference, virtually.
Funding Disclosure: Dr. Lowman received grant funding from Office of Special Education Programs, U. S. Dept. of Education.
Article Title: "Online Language Assessment of School-Age Students"
Course Content Disclosure:
Dr. Ellen Stubbe Kester disclosed that The Difference or Disorder book is mentioned in the article and that she receives royalties from book sales.
Article Title: "Using Animated Action Scenes to Remotely Assess Sentence Diversity in Toddlers"
Funding Disclosure: This work was funded by National Institutes of Health-National Institute on Deafness and Other Communication Disorders Grant #R01DC016273. Recipients: Elizabeth Norton, PhD and Lauren Wakschlag, PhD and National Institute of Mental Health Grant #R01MH107652. Recipient: Lauren Wakschlag, PhD.
Credits:
Lippincott Williams & Wilkins is approved by the Continuing Education Board of the American Speech-Language-Hearing Association (ASHA) to provide continuing education activities in speech-language pathology and audiology. ASHA CE Provider approval does not imply endorsement of course content, specific products or clinical procedures. This course is offered for 0.55 ASHA CEUs (Intermediate Levels, Professional Area).


{{ evaluation.question.text }}
{{choice.text}}

{{evaluation.answerSet[0].text}}
Test Code: TLD2220
Published: Apr/Jun 2022
Expires: 3/31/2027
Required Passing Score: 20/25 (80%)