{{ (moduleVm.actions && moduleVm.changeStatus) ? moduleVm.status : '' }} A Human Rights Perspective on Palliative Care: Unraveling Disparities and Determinants Among Asian American Populations
Activity Steps
{{ evaluation.question.text }}
{{choice.text}}

{{evaluation.answerSet[0].text}}
Description
Note: ASHA CEUs cannot be reported to ASHA unless your ASHA member number is included in your profile.
A scoping review was conducted to identify if unique considerations are understood among Asian American subgroups. This community of color is one whose distinct priorities, expectations and decision-making processes are poorly understood. For palliative programs to be effective, a community's unique perspectives and experiences must be understood. The authors affirm that academic researchers and clinical educators need to use data-driven strategies to advocate for equitable access to and utilization of quality palliative care, especially among diverse populations.
Accreditation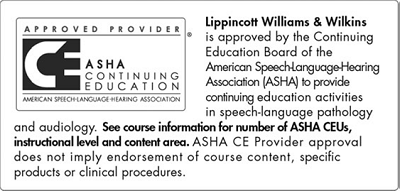 This course is offered for 0.10 ASHA CEUs
(Intermediate Level, Professional Area).
Purpose of Activity
To gain knowledge from a human rights perspective on palliative care practices by identifying the disparities and determinants that exist among Asian American populations.
Learning Objectives
After completing this continuing education activity you will be able to:
Identify disparities in palliative and end-of-life (EoL) care among Asian Americans and other racial and ethnic minorities.
Summarize reasons as to why it is important to understand the palliative care and EoL needs of Asian Americans.
Describe how healthcare providers can incorporate the palliative care and EoL needs of diverse Asian American communities.
Disclosures
The author(s) and planners have disclosed no potential conflicts of interest, financial or otherwise.
Credits:
Lippincott Williams & Wilkins is approved by the Continuing Education Board of the American Speech-Language-Hearing Association (ASHA) to provide continuing education activities in speech-language pathology and audiology. ASHA CE Provider approval does not imply endorsement of course content, specific products or clinical procedures. This course is offered for 0.10 ASHA CEUs (Intermediate Levels, Professional Area).


{{ evaluation.question.text }}
{{choice.text}}

{{evaluation.answerSet[0].text}}
Test Code: TLD3204
Published: Jul/Sep 2020
Expires: 4/1/2023
Required Passing Score: 4/5 (80%)