{{ (moduleVm.actions && moduleVm.changeStatus) ? moduleVm.status : '' }} Alternatives to Traditional Language Sample Measures with Emergent Bilingual Preschoolers
Activity Steps
{{ evaluation.question.text }}
{{choice.text}}

{{evaluation.answerSet[0].text}}
Description
Note: ASHA CEUs cannot be reported to ASHA unless your ASHA member number is included in your profile.
This study evaluated the use of alternatives to traditional language sample analysis measures for preschool-aged children who are bilingual. The goals were threefold: to establish congruent validity between traditional language sample measures and alternative measures of clinician-observed and parent-reported longest utterance, to compare groups across traditional and alternative measures, and to establish to what extent alternative measures predict language status.
Accreditation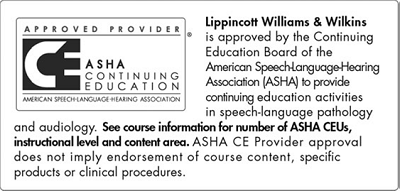 This course is offered for 0.05 ASHA CEUs
(Intermediate Level, Professional Area).
Purpose of Activity
To gain knowledge about alternative measures for language sample analysis (LSA) to assess bilingual preschool children and compare these measures to traditional approaches to gain insight about their effectiveness.
Learning Objectives
After completing this continuing education activity you will be able to:
Describe alternate methods of language sample analysis (LSA) collecting in bilingual children.
Identify the differences between various methods of LSA.
Explain the relationship between each LSA and their effectiveness at identifying developmental language disorder (DLD) in young Spanish-speaking children.
Disclosures
The authors and planners have disclosed no potential conflicts of interest, financial or otherwise.
Credits:
Lippincott Williams & Wilkins is approved by the Continuing Education Board of the American Speech-Language-Hearing Association (ASHA) to provide continuing education activities in speech-language pathology and audiology. ASHA CE Provider approval does not imply endorsement of course content, specific products or clinical procedures. This course is offered for 0.05 ASHA CEUs (Intermediate Levels, Professional Area).


{{ evaluation.question.text }}
{{choice.text}}

{{evaluation.answerSet[0].text}}
Test Code: TLD2206
Published: Apr/Jun 2020
Expires: 12/31/2022
Required Passing Score: 4/5 (80%)