{{ (moduleVm.actions && moduleVm.changeStatus) ? moduleVm.status : '' }} The Time Course of Priming in Aphasia: An Exploration of Learning Along a Continuum of Linguistic Processing Demands
Activity Steps
{{ evaluation.question.text }}
{{choice.text}}

{{evaluation.answerSet[0].text}}
Description
Note: ASHA CEUs cannot be reported to ASHA unless your ASHA member number is included in your profile.
Aphasia treatment involves both implicit and explicit learning, both of which rely on automatic spreading activation. The authors' study suggests that individuals with aphasia retain automatic spreading activation, although the time course within which it occurs may be different from neurotypical adults. Future research with larger samples would allow for investigation of individual differences. The authors conclude that this work has implications not only for understanding the underlying impairments of aphasia but also for aphasia treatment
Accreditation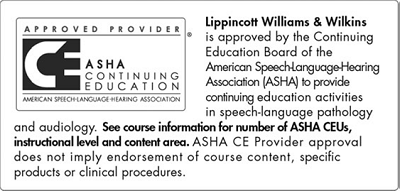 This course is offered for 0.1 ASHA CEUs
(Intermediate Level, Professional Area).
Purpose of Activity
To gain knowledge about learning in aphasia as manifested through automatic priming effects. By developing a better understanding of these mechanisms, it would be beneficial in improving methods of rehabiliation in people with aphasia.
Learning Objectives
After completing this continuing education activity you will be able to:
Describe the time-course priming effects including semantic and repetition timing effects.
Identify patterns of activation and their relationship to linguistic processing demands.
Explain learning in aphasia through using the time-course priming effects for both linguistic and non-linguistic stimuli.
Disclosures
The authors and planners have disclosed no potential conflicts of interest, financial or otherwise.
Credits:
Lippincott Williams & Wilkins is approved by the Continuing Education Board of the American Speech-Language-Hearing Association (ASHA) to provide continuing education activities in speech-language pathology and audiology. ASHA CE Provider approval does not imply endorsement of course content, specific products or clinical procedures. This course is offered for 0.10 ASHA CEUs (Intermediate Level, Professional Area).


{{ evaluation.question.text }}
{{choice.text}}

{{evaluation.answerSet[0].text}}
Test Code: TLD1203
Published: Jan/Mar 2020
Expires: 9/30/2022
Required Passing Score: 4/5 (80%)