{{ (moduleVm.actions && moduleVm.changeStatus) ? moduleVm.status : '' }} Identification of Key Therapy Ingredients for SLPs Serving on Multidisciplinary Teams Facilitating Return to Learn for Students with Prolonged Cognitive Effects After Concussion: A Retrospective Case Series Analysis
Activity Steps
{{ evaluation.question.text }}
{{choice.text}}

{{evaluation.answerSet[0].text}}
Description
Note: ASHA CEUs cannot be reported to ASHA unless your ASHA member number is included in your profile.
The authors used clinical data mining to identify key components in an integrated treatment approach used by SLPs to treat adolescents with persistent cognitive effects postconcussion. The authors' findings support the literature that identifies risk factors for prolonged effects of concussion as well as the cognitive rehabilitation literature that supports the use of multidisciplinary interventions. Key treatment and outcome measurement issues important for developing testable interventions are discussed.
Accreditation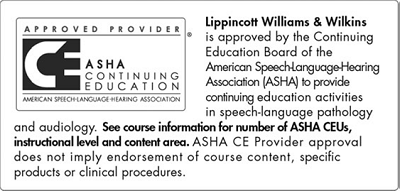 This course is offered for 0.15 ASHA CEUs
(Intermediate Level, Professional Area).
Purpose of Activity
To gain knowledge about effective integrated treatment approaches for students between 13 to 18 years of age experiencing prolonged concussion symptoms (PCS).
Learning Objectives/Outcomes
After completing this continuing education activity you will be able to:
Describe symptoms of prolonged concussion syndrome (PCS).
Identify the effects of PCS on school performance.
Explain the imporance of an integrated treatment approach in adolescents with PCS.
Disclosures
The authors and planners have disclosed no potential conflicts of interest, financial or otherwise.
Credits:
Lippincott Williams & Wilkins is approved by the Continuing Education Board of the American Speech-Language-Hearing Association (ASHA) to provide continuing education activities in speech-language pathology and audiology. ASHA CE Provider approval does not imply endorsement of course content, specific products or clinical procedures. This course is offered for 0.15 ASHA CEUs (Intermediate Level, Professional Area).


{{ evaluation.question.text }}
{{choice.text}}

{{evaluation.answerSet[0].text}}
Test Code: TLD1201
Published: Jan/Mar 2020
Expires: 9/30/2022
Required Passing Score: 5/6 (83%)