{{ (moduleVm.actions && moduleVm.changeStatus) ? moduleVm.status : '' }} Case Studies Comparing Learning Profiles and Response to Instruction in Autism Spectrum Disorder and Oral and Written Language Learning Disability at Transition to High School
Activity Steps
{{ evaluation.question.text }}
{{choice.text}}

{{evaluation.answerSet[0].text}}
Description
The authors' study used a case study approach to investigate literacy learning in two students just before they entered the 9th grade. The students had 2 contrasting disabilities. These were autism spectrum disorder (ASD) and oral and written language learning disability (OWL LD). Their findings are discussed in reference to educational applications and future research design implications to understand the writing challenges experienced by children with ASD in reference to children with OWL LD or other specific learning disabilities.
Accreditation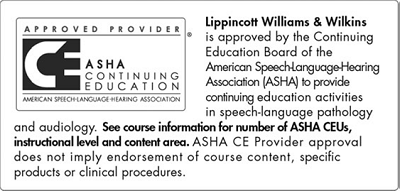 This course is offered for 0.15 ASHA CEUs
(Various Levels, Professional Area).
Purpose of Activity
To provide an understanding of evidence-based approaches to the challenges of writing development and effective writing instruction practices for children and adolescents with autism spectrum disorder.
Learning Objectives
After completing this continuing education activity you will be able to:
Describe literacy learning in students who have specific kinds of language challenges in their transition to high school.
Disclosures
The authors and planners have disclosed no potential conflicts of interest, financial or otherwise.
Credits:
Lippincott Williams & Wilkins is approved by the Continuing Education Board of the American Speech-Language-Hearing Association (ASHA) to provide continuing education activities in speech-language pathology and audiology. ASHA CE Provider approval does not imply endorsement of course content, specific products or clinical procedures. This course is offered for 0.15 ASHA CEUs (Various Levels, Professional Area).


{{ evaluation.question.text }}
{{choice.text}}

{{evaluation.answerSet[0].text}}
Test Code: TLD2191
Published: Apr/Jun 2019
Expires: 12/31/2021
Required Passing Score: 4/5 (80%)