{{ (moduleVm.actions && moduleVm.changeStatus) ? moduleVm.status : '' }} Same or Different: How Bilingual Readers Can Help Us Understand Bidialectal Readers
Activity Steps
{{ evaluation.question.text }}
{{choice.text}}

{{evaluation.answerSet[0].text}}
Description
Note: ASHA CEUs cannot be reported to ASHA unless your ASHA member number is included in your profile.
Reading achievement gaps were compared between the performance of African American and Latino/Hispanic children to their White peers. Among the many reasons offered to explain and address these achievement gaps, language differences and language proficiency were primary considerations. There was evidence that bidialectism and bilingualism can be leveraged to support literacy learning.
Accreditation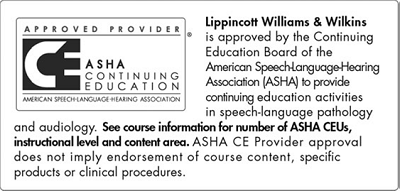 This course is offered for 0.10 ASHA CEUs
(Various Levels, Professional Area).
Purpose of Activity
To provide information about the similarities and differences in the reading acquisition of young bilingual and bidialectal readers using a strengths-based perspective.
Learning Objectives/Outcomes
After completing this continuing education activity you will be able to:
Explain how bidialectism and bilingualism have different implications for children's receptive and expressive English language knowledge, and how their language differences can support literacy learning.
Disclosures
The authors and planners have disclosed no potential conflicts of itneres, financial or otherwise.
Credits:
Lippincott Williams & Wilkins is approved by the Continuing Education Board of the American Speech-Language-Hearing Association (ASHA) to provide continuing education activities in speech-language pathology and audiology. ASHA CE Provider approval does not imply endorsement of course content, specific products or clinical procedures. This course is offered for 0.10 ASHA CEUs (Various Levels, Professional Area).


{{ evaluation.question.text }}
{{choice.text}}

{{evaluation.answerSet[0].text}}
Test Code: TLD1183
Published: Jan/Mar 2018
Expires: 9/30/2020
Required Passing Score: 4/5 (80%)