{{ (moduleVm.actions && moduleVm.changeStatus) ? moduleVm.status : '' }} An Investigation of Comprehension Processes Among Adolescent English Learners With Reading Difficulties
Activity Steps
Description
Note: ASHA CEUs cannot be reported to ASHA unless your ASHA member number is included in your profile.
This course examined the reading skills and processes of early adolescent Latino English learners demonstrating below-average reading comprehension performance.
Accreditation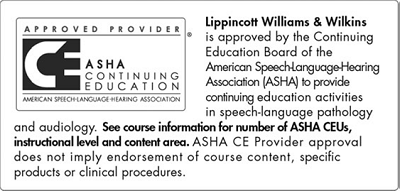 This course is offered for 0.15 ASHA CEUs
(Intermediate Level, Professional Area).
Purpose of Activity
To present the details of a study that used a mixed-methods approach to examine the nature of reading difficulties among early adolescent U.S.-born children of Spanish-speaking immigrant parents.
Learning Objectives/Outcomes
After completing this continuing education activity you will be able to:
Describe the findings of this study that for reading comprehension processes to effectively support construction of a rich mental representation of the text, they must be accompanied by relevant background knowledge and language skills.
Disclosures
The authors and planners have disclosed no potential conflicts of interest, financial or otherwise.
Credits:
Lippincott Williams & Wilkins is approved by the Continuing Education Board of the American Speech-Language-Hearing Association (ASHA) to provide continuing education activities in speech-language pathology and audiology. ASHA CE Provider approval does not imply endorsement of course content, specific products or clinical procedures. This course is offered for 0.15 ASHA CEUs (Intermediate Levels, Professional Area).


Test Code: TLD2175
Published: Apr/Jun 2017
Expires: 9/6/2019
Passing Score: 4/5 (80%)