{{ (moduleVm.actions && moduleVm.changeStatus) ? moduleVm.status : '' }} Language Sample Analysis of Writing in Children and Adolescents: Assessment and Intervention Contributions
Activity Steps
{{ evaluation.question.text }}
{{choice.text}}

{{evaluation.answerSet[0].text}}
Description
Note: ASHA CEUs cannot be reported to ASHA unless your ASHA member number is included in your profile.
The goal of the author?s review of the analytic writing measures in the language sampling analysis literature was to identify whether the data from these studies is useful to professionals in the classroom or clinic. To illustrate the application of analytic writing measures, the author used writing samples from two 12-year-old students, one with a language disorder and one without. The author encourages professionals to maintain a perspective on language sampling analysis within the context of what actually happens in the classroom.
Accreditation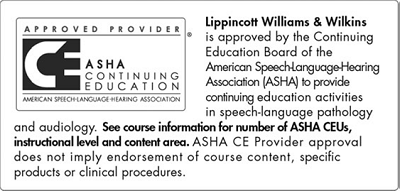 This course is offered for 0.15 ASHA CEUs
(Intermediate Level, Professional Area).
Purpose of Activity
To gain knowledge about language sample analysis (LSA) of writing and the implications assessment and intervention have to treat writing concerns in children and adolescents.
Learning Objectives
After completing this continuing education activity you will be able to:
Describe language sample analysis (LSA) of writing.
Identify the role of the speech-language pathologist (SLP) in identifying and treating writing concerns.
Explain the need to use LSA of writing to plan interventions to alleviate difficulty with written expression.
Disclosures
The authors and planners have disclosed no potential conflicts of interest, financial or otherwise.
Credits:
Lippincott Williams & Wilkins is approved by the Continuing Education Board of the American Speech-Language-Hearing Association (ASHA) to provide continuing education activities in speech-language pathology and audiology. ASHA CE Provider approval does not imply endorsement of course content, specific products or clinical procedures. This course is offered for 0.15 ASHA CEUs (Intermediate Levels, Professional Area).


{{ evaluation.question.text }}
{{choice.text}}

{{evaluation.answerSet[0].text}}
Test Code: TLD2205
Published: Apr/Jun 2020
Expires: 12/31/2022
Required Passing Score: 4/5 (80%)