{{ (moduleVm.actions && moduleVm.changeStatus) ? moduleVm.status : '' }} Investigation Attentional Allocation with Eye Tracking During Category Learning in People With Aphasia
Activity Steps
{{ evaluation.question.text }}
{{choice.text}}

{{evaluation.answerSet[0].text}}
Description
Note: ASHA CEUs cannot be reported to ASHA unless your ASHA member number is included in your profile.
The authors present the findings of a study that replicated an experiment designed to use category learning to examine attentional allocation. Findings included relevance to clinical settings where visual stimuli are presented as instructional, supporting and/or compensatory tools. The authors recommend further research to understand how individuals with aphasia engage with platforms such as alternative and augmentative communication devices, and whether there are ways to enhance factors such as attentional allocation.
Accreditation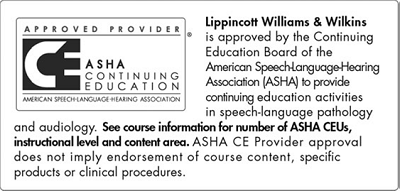 This course is offered for 0.1 ASHA CEUs
(Intermediate Level, Professional Area).
Purpose of Activity
To gain knowledge about the relationship between eye gaze and attention in a person with aphasia.
Learning Objectives
After completing this continuing education activity you will be able to:
Describe attention variability in people with aphasia.
Identify the role of attention in the construction and use of language.
Explain eye gaze and the role it plays on attention for a person with aphasia.
Disclosures
The authors and planners have disclosed no potential conflicts of interest, financial or otherwise.
Credits:
Lippincott Williams & Wilkins is approved by the Continuing Education Board of the American Speech-Language-Hearing Association (ASHA) to provide continuing education activities in speech-language pathology and audiology. ASHA CE Provider approval does not imply endorsement of course content, specific products or clinical procedures. This course is offered for 0.1 ASHA CEUs (Intermediate Levels, Professional Area).


{{ evaluation.question.text }}
{{choice.text}}

{{evaluation.answerSet[0].text}}
Test Code: TLD1205
Published: Jan/Mar 2020
Expires: 9/30/2022
Required Passing Score: 4/5 (80%)